Fire Department IT Case Study
Call The Fire Department! 
How VoIP & IT Services Helped Timber Mesa Fire District Find Success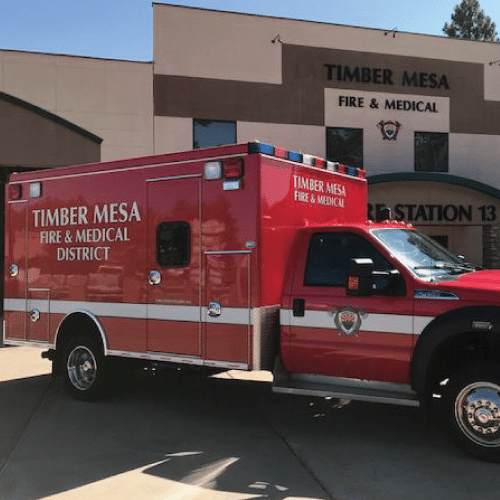 With a team of almost 100, Timber Mesa Fire & Medical District provides emergency, safety and educational services to the White Mountain communities of Linden, Lakeside, Show Low, and White Mountain Lakes as well as to surrounding areas.
They handle calls that range from house or wildland fires to medical and hazardous material incidents. Admittedly, it's no easy task to cover 250+ square miles, serving communities that can double in population during the summer, but it's much easier today than it was a few years ago…
Before Timber Mesa was created, there were multiple small local fire districts struggling with personnel shortages and inadequate funding and resources. Frankly, it was tough for each one to keep up with the growing needs of the rural communities they served. By 2014 it became clear that it would make sense to merge multiple small fire districts to create one cohesive, streamlined fire district thereby consolidating funding, resources and manpower.
"It was like the Brady Bunch on steroids,"
..said Deputy Chief Clay Wood. "But everyone involved collaborated so well, and the merger has been incredibly successful. Of course, getting the right technology in place was a big part of making it work."
The newly formed fire district was immediately faced with how to effectively communicate between five fire stations and a new central campus with an administrative building, a fleet maintenance shop, and training facility. They needed help to determine how to blend and optimize everything from phone systems to servers and computer hardware and software. Ensuring proper data backup and security was also key!
Sunstate stepped up to the plate to serve as the IT partner for Timber Mesa, helping to prioritize their myriad of needs while fully grasping the importance of streamlining everything and keeping a close eye on budget.
The first priority was to implement a modern, uniform phone system which allowed staff at any location to simply pick up their phone and dial any team member at their extension.
The VoIP phone system Sunstate provided also includes 3CX conferencing. This provides an easy and affordable platform for virtual staff meetings between all locations. With a larger coverage area and staff, this platform is critical to ensuring smooth handoffs for fire personnel from one shift to another.
Thoughtful budget planning was the key to getting the right hardware and software in place. Sunstate helped every step of the way, bringing in faster internet solutions and deploying secure, reliable Wi-Fi networks for each location. A new centralized server was installed in a secure location with the right "permissions" protocols. The new server was also set up for automatic backup to protect confidential data.
To provide uniformity for all stations and increase efficiency, Office 365 was implemented with its feature-rich computing programs.
Of course, Sunstate also provides 24/7 IT "help desk" support for all staff, ensuring peace of mind and quick attention to any technology issues that might arise, including issues with specific programs such as Firehouse, TeleStaff, ImageTrend, and QuickBooks.
Simplified billing is another big benefit for Timber Mesa.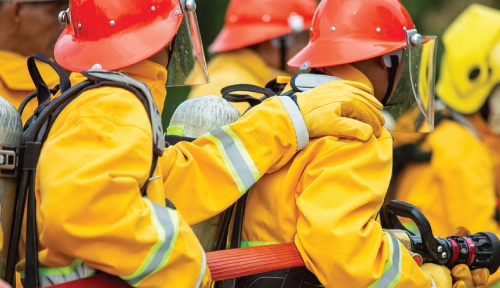 Sunstate Brings Solutions: With fewer bills to pay to various vendors and all of their technology needs organized to maximize their budget, Timber Mesa could afford to replace old hardware and ensure that all staff have access to efficient, up-to-date technology.

Technology is essential to what we do every day.
Combining four small fire districts into one supercharged fire district was no small task, but it was absolutely the right thing to do.
We have reduced operational costs and pooled resources, which has allowed us to expand our service area and deliver outstanding quality of service to the communities we serve. We also completed another successful consolidation with White Mountain Lakes Fire in late 2018, adding a fifth station to Timber Mesa.
Sunstate has been a truly integral part of making all that happen!
RANDY CHEVALIER, DEPUTY CHIEF
TIMBER MESA